Publication Date:
November 4, 2014
Synopsis
Lose yourself in the first four, full length books of USA TODAY Bestselling author Pamela Aares' TAVONESI Series. On Sale at $4.99 for a LIMITED time, four books for the price of one. The box set includes LOVE BATS LAST, THROWN BY LOVE, FIELDER'S CHOICE and LOVE ON THE LINE. Find out why readers are raving about this sizzling new, captivating series about sensual All-Stars and the alluring women who challenge them to love.
BOOK 1: LOVE BATS LAST
In LOVE BATS LAST, All-Star first baseman Alex Tavonesi has his hands full: he inherits the family vineyard and?is fighting to win one of baseball's most coveted honors, the Triple Crown. But when he meets veterinarian Jackie Brandon by chance in a

midnight

storm and helps her rescue a stranded whale, the love she ignites derails all his careful practices and plans.
BOOK 2: THROWN BY LOVE
In THROWN BY LOVE, ace pitcher Scotty Donovan has been traded from his longtime team—and hates it. But to his surprise, he now finds himself in the sweetest game of his life: winning the heart of smart, sexy physics professor Chloe McNalley. But when she inherits the team he plays for, following his heart could ruin his career.
BOOK 3: FIELDER'S CHOICE
In FIELDER'S CHOICE, All-Star shortstop Matt Darrington has more than a problem. His wife died, and now he's juggling a too-smart-for-her-britches six-year-old and the grueling pace of professional baseball. Worse, his daughter is mom shopping. When they explore a local ranch, she decides the beautiful, free-spirited tour guide is premium mom material. Matt thinks the sexy guide looks like Grade-A trouble. When love's in the game you can't play it safe...
BOOK 4: LOVE ON THE LINE
In LOVE ON THE LINE, heiress Cara Barrington fled the opulent world of her rich and famous family to carve out an idyllic existence on the California Coast. In the sleepy town of Albion Bay, she's embraced the simple way of living she's always craved. No one knows her identity, and she's free from the pressures of wealth . . . until her sexy new neighbor threatens the unpretentious world she's worked so hard to build.
-
"Not since Nora Roberts and Barbara Freethy has an author written such engaging characters and unusual, heart-wrenching challenges to love." ~ EarthLovingLens
"Pamela Aares takes you on a wonderful roller coaster ride that you will want to keep repeating!" ~ Read Your Writes Book Reviews
"Pamela Aares has done it again... another great sweet read with just enough drama and hotness. The perfect balance is what you will find with this read." ~ The Color of Ink Reviews
"My favorite reads are spin-off series by authors like Nora Roberts and I'm happy to find another author I love reading as much." ~ Julie Martin Wallace, Geode Press
"Another awesome book in the Tavonesi Series! The characters and the story were fantastic. Just as with the first book, I was immediately drawn into the story and couldn't put it down." ~ There's This Book Reviews
"This story has so many levels that all weave together beautifully. From the moment readers start tuning the pages, there will be no putting this story down! ~ InD'tale Magazine on book one, Love Bats Last
-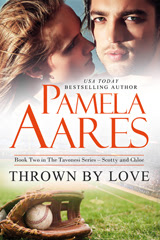 About Pamela Aares
Pamela Aares is an award-winning, internationally bestselling author of contemporary and historical romance novels and also writes about fictional romance in sports with her new Tavonesi Series. Get ready for Alpha male All-Stars and the strong women they come to love!
Her popularity as a romance writer continues to grow with each new book release, so much so, that the Bay area author has drawn comparisons by readers and reviewers to Nora Roberts.
Pamela Aares writes romance books that she loves reading, particularly those that entertain, transport and inspire dreams while captivating and tugging at the heart. She takes her readers on a journey with complex characters in both contemporary and historical settings who are thrown in situations that tempt love, adventure and self-discovery.
Before becoming a romance author, Aares wrote and produced award-winning films including Your Water, Your Life, featuring actress Susan Sarandon and NPR series New Voices, The Powers of the Universe and The Earth's Imagination. She holds a Master's degree from Harvard and currently resides in the wine country of Northern California with her husband, a former MLB All-Star and two curious cats.
If not behind her computer, you can probably find her reading a romance novel, hiking the beach or savoring life with friends. You can visit Pamela on the web at http://www.PamelaAares.com