Publication Date: November 24, 2014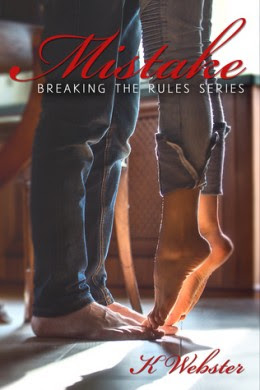 Synopsis
***Mistake is book four in the Breaking the Rules series, but can be read as a standalone.***
Opal Redding has led a life full of mistakes. She left home at an early age to pursue a dream and follow her sister to the big city. Unfortunately, that dream turned into a nightmare when she landed in the clutches of the evilest and vilest of men.
Now, four years later, Opal has buckled down and focused on never making mistakes that hurt her or those around her ever again. She went after her college degree and the sexy investment banker, Trent Sutton.
For four long years, she cultivated their friendship in hopes of, one day, running off into the sunset with her prince.
As graduation nears, Trent finally notices her as a desirable woman and not just a friend. All of her hard work is finally paying off. The white picket fence and two point five kids are within her grasp.
Thad Sutton lives in the shadow of his brother. Fresh out of rehab with a hopeful outlook on life, Thad meets Opal and is drawn to her more than any drug ever could. But is she toxic to his recovery?
When Opal is faced with a decision between two brothers, the right choice and the awful choice, she finds her resolve to have a perfect life begin to falter.
Will she choose the right path? Or will she make the biggest mistake of her life?
"Thaddeus?" my mother snaps, jerking me from one of my only happy memories.
"I said that will be all for the evening. Goodnight," she dismisses me.
Rising to my feet, I start to leave, but she holds out her glass, which is still full of amber liquid. My throat squeezes as I realize she's been drinking.
"Thaddeus darling, will you be a dear and run this to the kitchen for me?" Her expression is even, but I've known her long enough to see that she is testing my willpower. Just like last night. Sometimes, I wonder if she feeds on my failures.
Well fuck her. I won't fail.
I clench my teeth and wrap my fingers around the chilled glass, taking it from her. Storming from her presence, I stalk into the kitchen. I'm about to pour it into the sink when I catch a whiff of one of my favorite vices. With my free hand, I clutch the edge of the sink. Bringing the glass to my nose, I inhale the scent. My mouth practically waters as it begs for a taste. Fuck my mother for putting me in this position.
Bringing it from my nose, I hold it over the sink again. My hand shakes as I try to force myself to pour it out. Before I can second-guess my reasons, I put the glass to my lips. I can taste the strong flavor just on the glass, and I want it so badly.
Tipping my head back, I allow some of the liquid to pour into my mouth. It burns as I swish it around, not yet giving in to swallowing it. I can spit it all out and not undo two months of rehab. I'm stronger than this.
In a dramatic spray, I spew it back into the sink.
I'm stronger than this—stronger than my mother gives me credit for.
So why am I bringing the glass back to my lips?
Why am I once again pouring the liquid into my mouth?
Why am I gulping until there's nothing but ice in glass?
Fuck. Me.
About K Webster
I love my husband of 11 years and sweet kids. My passions include reading, writing, graphic design, and shopping! I absolutely love social media and the power of how it connects people all over the world. You can usually find me easily on Facebook, Twitter, Instagram, Pinterest, and Goodreads!